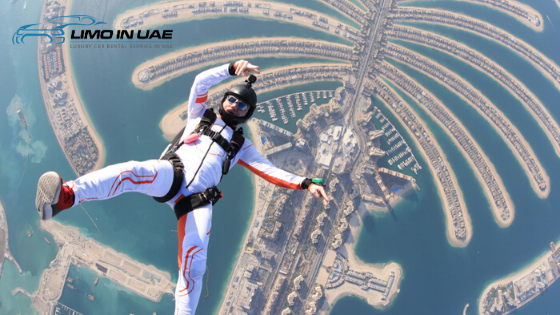 Best Places to Visit in Dubai according to Limo in UAE
March 19, 2020|Posted in: limousine services in UAE
From the world's tallest 2,720 ft Burj Khalifa to the 72,000 sqm Dubai Miracle Garden – the world's largest flower garden, you've enough places in Dubai to explore an amazing sun seeking tourism.
With exalted architecture, elegant and welcoming luxury, the investor friendly city, Dubai has become the utopia for every visitor. Dubai holds a handful of Guinness records which shows the city's love for taking challenges especially a deep interest in monumental exigencies which lead to perplexing mega projects like world's biggest shopping mall, world's tallest buildings, which has given a makeover to the city's skyline. Let's transform this vacation into an exhilarating one by choosing expert chauffeur service from Limo in UAE.
Let's take a sneak peek into a handful of them.
This hymenocallis inspired architectural whiz is the #1 must visit, landmark building in Dubai. The observation deck at the 124th floor gives you an ample view of the metropolis. The world's largest performing fountain, the Dubai Fountain positioned near the pleasing gardens at the base is modeled from the glorious fountains of Bellagio in Las Vegas. It also includes Dubai's top luxury hotels and restaurants.
The world's largest natural flower garden was launched in 2013 on the Valentines day. From the mid of November to May, the garden proffers our eyes an astonishing view of colors, when it is in full bloom during the Spring. You can see many floral installations including Disney Avenue, Emirates A380, Mickey Mouse and Lost Paradise. The floral clock and various floral passages is eye candy. Other attractions include amphitheatre and trampoline park.
The largest shopping mall in Dubai is a part of Downtown Dubai. About 1200 retail stores, hundreds of food and beverage outlets, top hotels to stay, the vast entertainment zone including cinemas, frames it a one stop destination for  shopping, amusement and enjoying your leisure time. The underwater zoo and aquarium located at the second floor is arrayed with thousands of aquatic animals. The underwater zoo and aquarium is a great place to take your kids to.
The artificial island trebles include the tree shaped enclave Palm Jumeirah island, the Deira Island and Palm Jebel Ali, on the coast of Dubai where you can witness some of the most eminent engineering brilliance of the world. Major activities in Palm Islands include sailing around the islands in a yacht or speedboat and skydiving.
Infinity tower or canyon tower is a 75 storied skyscraper in dubai with a twist of 90 degrees. It is one of the most recognized buildings in Dubai which includes residential amenities, infinity edge pool, conference centres and spa. It was the world's tallest twisting tower which was surpassed by the tower, Turning Torso.
This is a place where industry faces art. This is a 990,000 square feet area which is broadly devoted to art, including the performing arts. This place has a lot for art lovers. This artistic hub will be open throughout the year. The Alserkal Art District is kind of a place that offers a slower relaxing pace from the fast city life which uses finest and fantastic art as a medium of communication. This is an amazing spot to witness some amazing art, stage performance, exhibitions and more.
The best waterpark in Dubai filled with all day water activities, huge and thrilling slides along with the Lost Chamber Aquarium which consist of over 65,000 marine creatures which makes it favorite for kids. This is the most favorite destination for people who like water sports and water activities. It includes the Tower of Neptune where you can experience a fabulous ride through shark filled lagoons.
Ras Al Khor Wildlife Sanctuary
Isn't it a contradiction that the busy modern city has a wetland close to nature? Ras Al Khor Wildlife Sanctuary, a 6.2 square kilometers covering mud and salt flats, mangroves and lagoons, which creates a suitable orbital habitat and nesting ground for birds. In winter, there will be a lot of  flamingos in the water which will be visually pleasing for bird watchers and nature lovers. You can spot a lot  of species like great egrets, black-winged stilts, osprey and sandpipers.
Burj al-Arab is one of the tallest buildings, which is one of the world's most luxurious 5 star hotels located in Dubai. The hotel is managed by the famous Jumeirah group. The most impressive architecture and the design embellished with the most expensive marble and gold, this 7 star hotel can make each visitor feel the large, extreme arabian luxury in every detail.
Enjoy a thrilling and exciting desert safari experience through the sand dunes of Dubai. Desert safari comes with a lot of adventure activities in Dubai including dune buggies, Quad biking, camel riding, photo shoots. The best part in Dubai for adventure seekers. If you want to know more about how thrilling a desert safari is, here is the link to our previous blog Why choose an overnight Desert Safari in Dubai.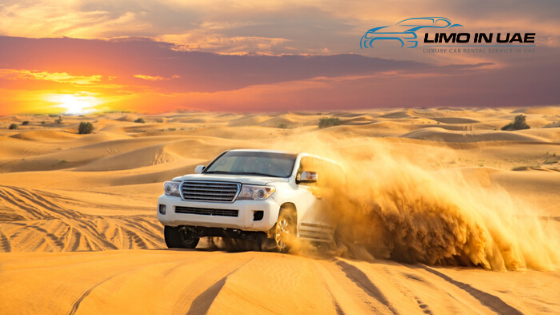 Explore your dream city, Dubai with Limo in UAE
Exploring Dubai into an exhilarating one by choosing expert chauffeur service from Limo in UAE. We offer the best limo services in UAE. From timely airport pick up Dubai, truly amazing sightseeing experience to an amazing royal desert safari, Limo in UAE can treat you with the best quality of service at pocket friendly prices. Our chauffeurs are the best in town, they can take you around to explore all the best places in your dream city. Our services include stretch limos that can fit in your favorite gang together and  luxury car rental Dubai, a journey where you can feel class in every nitty-gritty.