Top 5 Apps You'll Need For Your Next Trip to Dubai
November 4, 2020|Posted in: limousine services in UAE
There is a lot to do in Dubai, from desert adventures to relaxing at Burj Al Arab, reportedly the world's only 7-star hotel –  it can be tricky finding time to fit it all in your travel plan. Traveling can be fun but when you are unaware of the place, things can be troublesome. However, these travel apps can make things undemanding.
Having a travel plan can make your trip stress free. 
With these apps, you can plan everything from choosing a destination to booking your transportation.  
If you have a plan to visit Dubai, you must check out the below listed amazing apps. They prove to be very helpful in helping tourists make their trips trouble-free.
1. Visit Dubai
If you are looking for an all in one travel app, then Visit Dubai can be your perfect choice. This app is a must-have for every tourist in Dubai. 
You can check out places such as tourist attractions, shopping, beaches, restaurants, events, transportation, sports, and whatnot.
With this app, you'll get access to various website links where you can view additional information if you need to know about the stores or locations. 
It also suggests the best places to visit according to your stay in Dubai.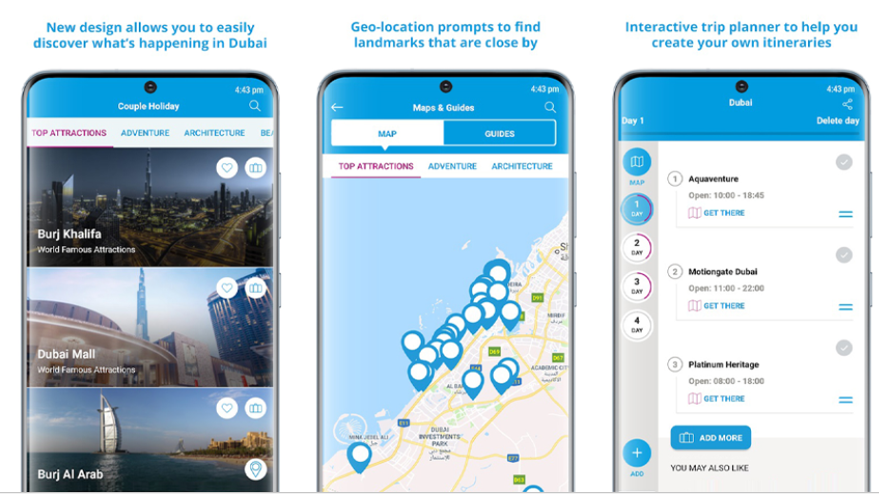 Features of the app
Information on sights and attractions

Create customized itineraries

Currency converter

Maps and guides to download for offline use

Available in six different languages – Arabic, English, French, German, Russian, and Mandarin
2. Dubai Airports
Dubai Airports app is an official travel app for Dubai Airport passengers.
The app is very much helpful for people who visit Dubai. It lets passengers access information on services and facilities of the airport.
You can get complete details on all pending and upcoming flights through both Dubai International and Al Maktoum Airports from this app.
Features of the app
Instant access to arrivals, departures time, and status
Fast flight search by airport or flight number
Flight status tracking
Indoor maps
Locate restaurants, air lounges, and shops
Get boarding passes and check gate numbers
Use bookmarks to track your flight
Predefined filters for a more precise search
3. Dubai Metro
The Dubai Metro is the perfect app for those who wish to use public transport in Dubai. It allows you to check the timings of trains and buses across the city. 
The app gives you all the information related to stations and stops. The Dubai metro app also provides you a brief history of the Dubai Metro and all the details of fines that travelers can face during their journey.

Features of the app
Zoom options for a clear-cut view

View the route on the map

Search for stations and stops

Offline maps

Step by step guide

Supports English & Arabic languages
4. Wojhati
Wojhati is one of the most used travel planning mobile apps maintained by the Road Transport Authority(RTA) of the Dubai government.
The app uses a real-time map using GPS to give you information about planning your journey in different transport means.
Features of Wojhati
Users can view routes, stops, major landmarks, and next departures
Plan journeys using public transport anywhere within Dubai
Check out recently viewed locations and journeys
Bookmark favorite locations
Share journey details and routes
View walking directions to and from stops
Access real-time public transport delay information
Augmented reality features
Track journey progress in real-time and receive alerts
5. The Dubai Mall
It's better to consider having the smartest technology if you have the world's largest shopping malls on your checklist – Yes, the Dubai Mall! 
It has around 1200 retail outlets and 200 food joints. If you're planning a visit to Dubai Mall, the Dubai Mall app will help you to effortlessly find your way through the most luxurious shopping mall in the world.
It will guide you to the hottest trends and events happening in the Dubai mall.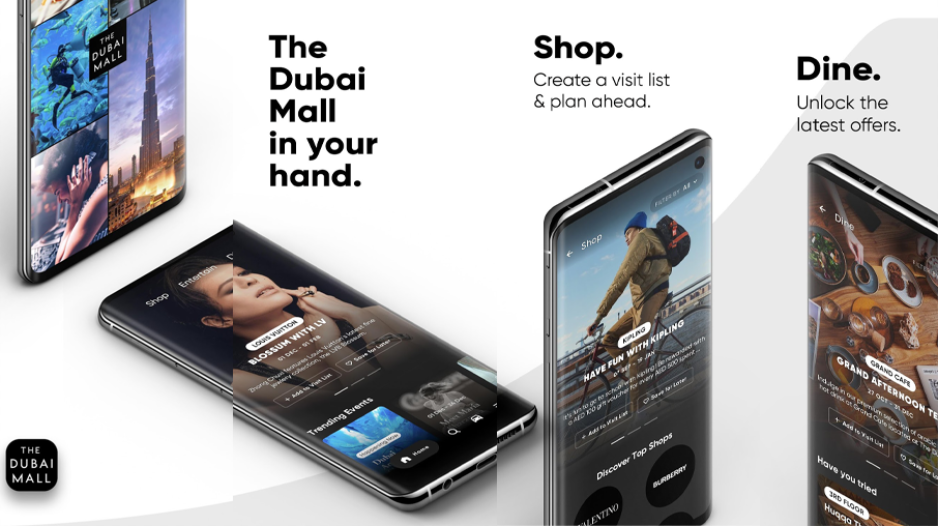 Features of the app
Check out the up to date offers

Create a visit list and plan ahead

Real-time navigation

Explore the latest in entertainment
Related: Top UAE Limousines You Can Hire In Dubai
The Essence
Whether it is your first-time visit to Dubai or you have been there multiple times, these travel apps guide you in planning a great time in Dubai as it is one of the most rapidly developing and expanding places in the world. 
These are just some of the apps we find to be helpful to make your next trip to Dubai unruffled and enjoyable. 
We understand that your time is precious and having an expert chauffeur onboard can keep you on time. At Limo in UAE, we provide premium limousines to hire in Dubai and assist you with experienced chauffeurs who know very well about the city. 
Contact us to find the service that's just right for your travel plan and budget. 
Have a great trip!