6 Most Incredible Day Trip Places From Dubai By UAE Limousine Service
July 1, 2020|Posted in: UAE limousine services
UAE Limousine Service picks 8 most incredible day trip places near Dubai – From Abu Dhabi and Sharjah to the amazing wild dunes – you've many options to choose from. 
Dubai is a city where one can feel the real buzz – business opportunities, cosmopolitanism, best in class restaurants, a horde of shopping places that calls you. Aside from the electrifying buzz of Dubai, the city extends amazing tourist spots, a hop, skip, and a jump away. UAE limousine service picks up the best day trip places from Dubai you can reach near at hand, so you can choose the best option for you.
 1. 

Abu Dhabi

Abu Dhabi is one of the most attractive and popular day trip places in Dubai. A place where you can experience the culture, vibrance, and grandeur of the UAE. Abu Dhabi is 130 km away from Dubai which is connected by the Sheikh Zayed Road. You can hire a UAE limousine service and it only takes a comfy ride in less than two hours to reach Abu Dhabi from Dubai.  

From the desert terrain of Liwa Oasis to inland Oasis city Al Ain, Abu Dhabi, the city stuns you with some amazing attractions for your one day trip from Dubai. Here are a few of them.
Sheik Zayed Grand Mosque

Jebel Hafeet

Louvre Abu Dhabi

Mangrove Kayaking 

Ferrari World

Yas Island

Sir Bani Island

Heritage Village
2. Sharjah
The best way to get to Sharjah, the arts capital of UAE is by renting UAE Limousine service where you can reach your destination in less than 30 minutes. Sharjah, the third-largest and most populous city in the UAE is just 40kms away from Dubai. Sharjah is filled up with excellent sightseeing options, especially for art lovers. You can dive deeper into Emirati culture by exploring the Heritage area in the cultural capital of the Arab World, as stated by UNESCO in 1998.
Sharjah has a great deal to amuse kids as well including the butterfly house in the Al Noor Island, underwater aquarium. Here are some of the best places in Sharjah.
Museum of Islamic Civilization

Sharjah Fort

Heritage Area

Central Market

Al Qasba

Blue Souq

Al Noor Island

Desert Park

Kalba
3. Dubai Desert Safari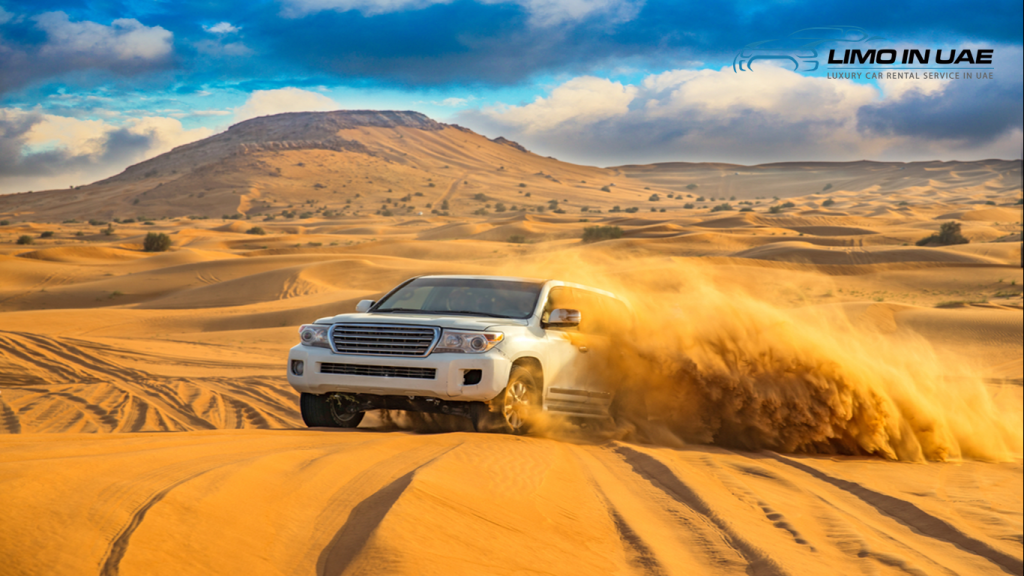 Enjoy an electrifying safari in the sandy deserts of Dubai. It is one of the most adventurous and thrilling things one can experience in the city of gold, Dubai. You can enjoy an exhilarating dune bashing in the beautiful chromatic deserts of Dubai. A wide range of safari options can be chosen including a morning desert safari, adventure desert safari, an evening or a night desert safari through the great sunburnt Arabian deserts.
Want to know why to choose an overnight desert safari in Dubai, then visit our previous blog here to know why an overnight desert safari in Dubai is exciting.
From witnessing the elegance of belly dancing to adventurous activities, a desert safari in Dubai is a lot more than just a desert safari. Here are some of the best attractions you can experience in a desert safari in Dubai.
Dune Bashing

Camping

Hot Air Ballooning

Camel Safari

Sand Skiing

Quad Biking

Experiencing The Sunrise And Sunset

Buffet Dinner

Star Gazing

And Many Other Activities
Limo in UAE, a leading UAE limousine service can transform your day trips in Dubai more comfortably and also season it with luxury. Enjoy a remarkable desert safari by hiring the best UAE limousine service.
4. Musandam Peninsula, Oman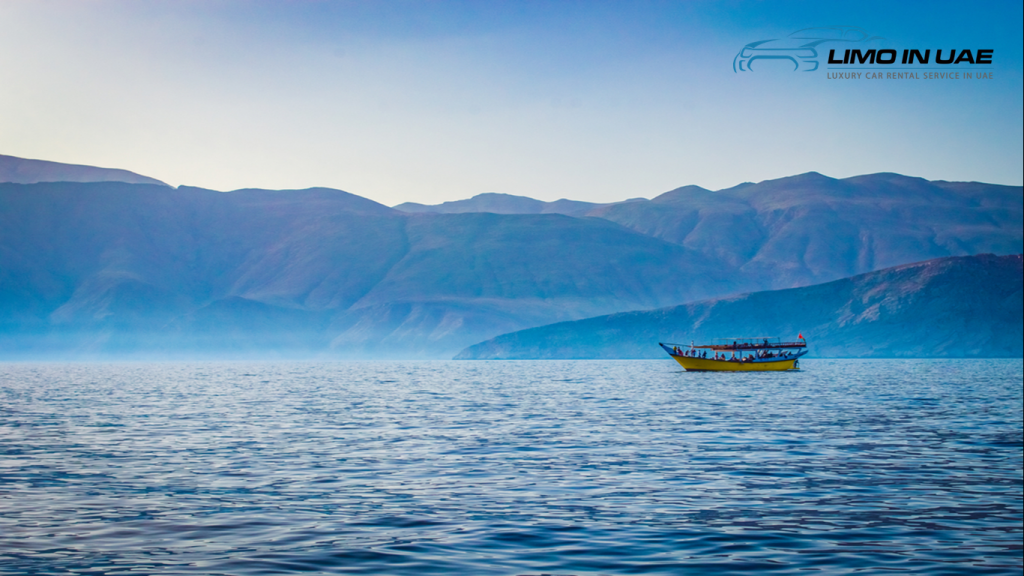 Enjoy the picturesque view of scabrous Hajar mountains on your day trip to the Musandam peninsula in Oman. To reach Musandam, it is a 2 hours quick ride in your hired UAE limousine service. You can cruise in the blue waters with corals, home of distinct fish species, of the peninsula in an Omani Dhow or a hired boat. 
The Musandam peninsula is the greatest escape to nature lovers who are tired of beholding the artificial wonders and man-made skyscrapers of Dubai. This is an isolated gobbet of land that lies to the northeastern part of Dubai. The peninsula inhabits a sublime speck on the Strait of Hormuz, a meander of waterbody separating UAE and Iran.
Here are some of the top attractions of the Musandam Governorate other than the peninsula.
Jebel Al Harim

Khasab Fort

Bukha Fort

Jabal Bil Ays
5. Wadi Adventure Park
For water sports lovers, the Wadi adventure park is a must-visit in Dubai. The Wadi Adventure park amazes you with thrilling water sport activities. The park lies at the foot of the Jebel Hafeet Mountain in the Al Ain road which is 150 km away from Dubai. You can reach the Wadi Adventure in less than two hours in your hired limo rental Dubai. It is one of the best surf venues in the world. For an adrenaline fuelling experience, the Wadi Adventure park can be a perfect choice. You can experience an abundance of activities in this waterpark with your family or friends.
Here are some of the top water sporting activities you can experience at the Wadi adventure park.
Water Rafting

Kayaking

Surf Pool

Wakeboard

Airpark

Zipline

Splashpad

Temperature Controlled Pool
6. Hatta
Not least of all, it is Hatta – the ideal weekend escapement from the tiring work stress. An offbeat destination where one can experience a majestic view of aesthetic mountains. This beautiful place is just a 30 minutes drive from Dubai which is just 125 km away from Dubai. 
The journey to this heavenly beautiful place is magical and adventurous. For adventure seekers, Hatta can be your ideal getaway. With a pleasant climate and a rich cultural background, the place can be a great revival from the hustle of busy city life. 
Here are some of the best things you can do at Hatta.
Explore Heritage Village

Mountain Safari

Kayaking in the Hatta Dam

Overnight Camping
Make Your Trips Most Memorable With UAE Limousine Service
Hire luxurious limo service Dubai from Limo in UAE, the leading UAE limousine service, and enjoy a comfy filled and relaxed journey on your day trip or to your weekend getaway from Dubai. Our limo rental Dubai is well established for the best limousines in Dubai and experienced chauffeurs who take care of your travel requirements perfectly.
Hire the best limousines for your trips and make your trips most remarkable.